PLACES OF INTEREST AND BEAUTY NEAR MORAIRA
BENIDORM, ALICANTE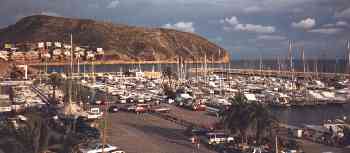 This charming place was a very small fishing village with few inhabitants. Whilst over the years in being 'discovered' many people have built villas in the surrounding hills the place still retains its original character . Unlike the big city some miles away this charming village does not have any high rise hotels and thus does not feature in the large Travel brochures. The whole area has one of the best climates in the world and has attracted settlers from all over, including the larger cities of Spain.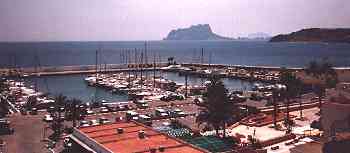 Although there is still a fishing harbour, the village itself has grown and now sports a large marina where vessels are berthed all year round. The Club Nautico at the far end of the marina welcomes visitors either to eat or take refreshments on the terrace. Prices are the same as village rates.
Most mornings there are auctions in the fish market and on Fridays there is a street market. This starts early and closes up around 1-2 pm. Finding a car parking space is the biggest problem on Friday mornings! Best idea is to leave the car short of the village and walk in. The Banks and shops are all busy on market day. There is a Sunday morning car-boot sale beside the large petrol station just as you leave Teulada. This also starts early and finishes up around 1 pm.
All the surrounding towns and villages have separate market days. Altea is on Tuesdays and this is worth a visit, the market stretches along the sea front with lots of stalls. A word of caution - keep tight hold of valuables, watch wallets in back pockets and handbags slung over shoulder etc,
There are some lovely beaches round about the Moraira area. The beach here is quite sheltered and can become busy in the height of the Summer. There are the usual beach-bars etc. Round the bay from Moraira there is a superb beach at El Portet also with bars and restaurants alongside.
Travelling inland it is well worth going through the Jalon Valley. This is agricultural country with almond/orange and lemon groves. The road can be quite narrow in places, especially through some of the villages. There are bodegas where you can have a wine tasting and purchase supplies at good prices. There is a very quaint bar called 'Hallelujah Bar' which merits a visit or two. Try the local muscatel. There is an open-air municipal swimming pool just across from the Hallelujah with changing facilities etc. at very reasonable rates. Mr. T's is a wel-known bar in the Tabaira area of Moraira. There are pool and snooker tables and they have a swimming pool for use of patrons at a srnall charge.
In the European Shopping centre there are various shops and bars including a Supermarket, butcher, ironmonger and fish'n chip shop. The bars all sell pub grub and some have entertainment on selected evenings.
For eating out there is a wide choice, not only in the village but in the surrounding area as well. Some places to note are:
Huang Zhou chinese restaurant which is on the coast road leaving Moraira towards Calpe, not too far from the village.
Practically next door is the Steak House where either beef or pork steaks come raw with a heated 'stone' to let you cook it yourself. Wine is not included but the bill usually works out around UK pounds 10 per head.
Good english food can be found at both El Cid and Captain Benbows in the village. There are lots of others, all worth trying, usually the prices are displayed, if not, watch out for costs of seafood and the usual pricey items.
Another good restaurant is Tico~Tico which is also on the coastal road from Moraira to Calpe quite far up, past a big Pepe Ia Sal Supermarket. It is signposted just after this shopping area and calls for a very sharp right hand turn to find the restaurant. An excellent a-course meal can be had for the equivalent of UK pounds 5 per head and this includes wine.
For a good day out take a car trip through Jalon Valley and stop off for lunch at one of the restaurants, favourites are Pepe's, Beni Rossa and La Solana but there are others. Lunches are 3 course and include wine and bread. The choice of main course depends on the cost of the meal, for example chicken will probably cost 1000 pts (UK pounds 5) while steak may cost 1800 pts (UK pounds 9) per head but you choose any starter and sweet you wish and the equivalent of half a bottle of wine each. It is recommended to reserve a table for lunch especially in the busy periods.
There are mountain passes through the Valley which take you to Altea or Benidorm. Although the routes are very scenic the roads can be narrow and the mountains high. A camera is essential on these trips.
Guadalest is a notable place of interest. This is a walled village high up in the mountains and the scenery is breathtaking.
Through the Jalon there are waterfalls called Cascada de El Algar and these, as well, are worth the trip.
For watersport fans Aqualandia Benidorm is an excellent day out. sessions and prices, good for kids.
There is a large hypermarket, 'Continiente', off the motorway near Benidorm at a place called Finestraat. Great food hall, just the place to stock up on the duty free.
Calpe, Altea and Javea are all on the coast and offer a good day out. There are lots of fish restaurants round about the port at Calpe just under the Penon de Ifach where you are plied with sangria to induce you to take a table. The prices can be very high so watch out!
And we can't forget our local pub the 'Traveller's Rest', the host is Mike and he knows what goes on and where. He has occasional entertainment in the evenings, usually advertised. The pub is dosed during the day except Saturdays and is also closed every Monday. Friendly clientele and all quite happy to keep you right as to what's on where, just ask.
Just relax and enjoy your break!
PLEASE CLICK HERE TO VISIT OUR UP TO DATE WEBPAGE

VILLA WITH POOL NEAR MORAIRA FOR YOUR VACATION
Three bedroom villa 2km out of town. Please click here

APARTMENT IN MORAIRA FOR YOUR HOLIDAY
this is a fully equipped house for vacations in Moraira near Benidormfor your winter break or summer holiday in the sun in Spain. The local airport is Alicante.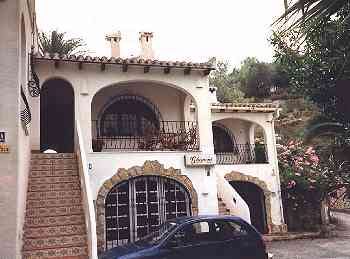 The property consist of lounge, kitchen/dining area, 2 double bedrooms, bathroom with bath/shower bidet. It is tastefully furnished and has satellite tv, washing machine, micro wave etc. All normal household appliances eg iron, toaster, elec. kettle etc. are available.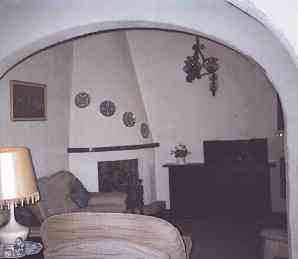 If you are interested in booking tel. 01382 521444 (+44 1382 521444) or email aileen@rosling.com from here

If you are looking for larger villas, some with swimming pools and apartments in the Moraira, Denia, Javea, Altea, Benissa and Calpe areas, please click here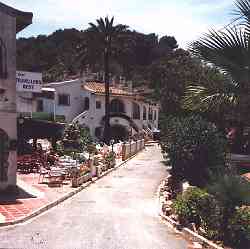 The house is situated in a quiet lane behind the European Shopping centre. In the centre there are small shops and bars including a self-service store, english butcher, ironmongers and even a good fish and chip shop. There are a variety of restaurants in the vicinity and food can also be purchased at most of the bars nearby.
It is situated within walking distance from the village of Moraira although it is recommended to hire a taxi as the road can become busy at times. Taxis can best be hired by phoning from one of the local bars. Click here for further details. If you are looking for larger villas, some with swimming pools and apartments in the Moraira, Denia, Javea, Altea, Benissa and Calpe areas, please click here
The village of Moraira is picturesque and has shops, bars and restaurants. It is on the sea and there is a beach, harbour and marina. There is a local fish market with auctions most mornings and a general market in Moraira every Friday morning. An interesting car boot sale takes place on Sunday mornings near the Red Cross Station just as you are leaving the nearby village of Teulada. There is a beautiful beach round the bay from Moraira in a village called Portet.
As there is limited public transport to Moraira it is best to hire a car for pick up'drop off at Alicante Airport. For information a Group B car is approximately UK pounds 100 per week inclusive depending on the season; the car will have a full tank of petrol for which you will be charged an additional UK pounds 25 or so. The car should be returned with an empty tank. A taxi from Alicante to Moraira costs between UK pounds 40 to UK pounds 50.
It is worthwhile exploring the surrounding area and taking advantage of the special menus of the day which the restaurants in nearby Jalon Valley offer (try Pepe's, Beni Rossa, La Solana - all near Alcalali and signposted).
Jalon Valley is a short car journey from Moraira, through rugged scenery. There are mountain passes, which lead on to Altea and, further afield, Benidorm. The coastal road from Alicante to Moraira is especially scenic; this brings you through Calpe where wild flamingos can be viewed on the salt flats.
TARIFF (per apartment)
March UK pounds 95weekly
April UK pounds 95weekly
May UK pounds 100weekly
June UK pounds 100weekly
July UK pounds 130weekly
August UK pounds 130weekly
SeptemberUK pounds 130weekly
October UK pounds 95weekly
Above prices are for one or two weeks, longer stays can be negotiated.
DIRECTIONS BY ROAD FROM ALICANTE AIRPORT VIA BENIDORM TO MORAIRA (appmx. 80 km)
On leaving the airport follow the blue signs to the Motorway and VALENCIA (not Alicante as this takes you through the clty and not MURCIA as this is to the South)
There is a good stretch of Motorway which is free, but there are tollbooths which you will reach after going through a tunnel. Take a ticket. Keep on the Motorway to Junction No. 63, which is signposted BENISSA and TEULADA. Pay at the booth (approx 1000 pesetas).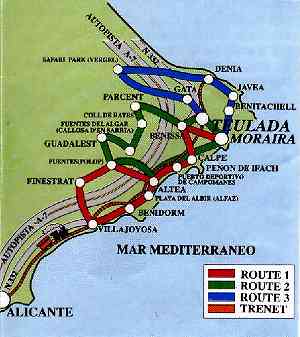 Do not take the road which branches to the right but continue straight on - this sliproad bends very sharply to the right and brings you on to the correct carriageway for Teulada and Moraira (this is the main road N332).
Follow the road down the hill and round several bends. Towards the bottom you will see a Garden Centre and Red Cross Emergency Ambulance Centre on the left and a Pottery shop/bar on the right (this is the corner of the road you should turn off). This road is signposted Teulada and Moraira. Continue on down this road which goes under a small bridge, carry on straight up the hill on the dual carriageway and when you reach the roundabout at the top bear slightly right, signposted Moraira.
Head on to Moraira, passing a gokart track on the left then a large Ceramic centre and Restaurant Salvador. Just before the European shopping centre, with the Paichi Garden Centre on the right there is a road up to the left with signs for Travellers Rest, Ah Baba Dancing Bar etc.
Take first right into a narrow street, the house is second from end marked 4B and 215. Name is on door.
If you are interested in booking tel. 01382 521444 (+44 1382 521444) or email aileen@rosling.com from here
The villa owner's tips: "For car hire from the Airport (Alicante) I use a local Moraira Company called Mr. Car (fax from UK 003466490116) and I have been getting reasonably priced flights from a Company I found on teletext, Premier Leisure tel 0181 5973376 (+44 181 5973376 from outside UK). A club called Driveline (tel 01707 22300) do a really good deal on the ferry crossing from Portsmouth to Bilbao for car and passengers and then it is a 475 mile drive to Moraira." More information about Moraira and the area is here
In addition to the travel details below, this file is worth looking at
Here's a source of cheap flights to Alicante Airport from various airports in the UK. Here's Iberia Airways who do flights to Alicante Here's a useful car hire firm who operates out of Alicante Airport Here's the complete tourist information guide to Spain for your Spanish vacations and holidays in Spain with links to the Spanish tourist board, ghastly concrete jungles quite unlike here, hotels, accommodation (but you can't beat this villa here!) and all the Spanish tourist info you could desire!

webmaster
See the
The Latroba Guide to holiday vacation rental apartments and villas in France Spain Italy Greece and holiday houses in the UK