ALICANTE: MAP - AIRPORT VIA BENIDORM TO MORAIRA WITH CAR HIRE, FLIGHT AND FERRY INFORMATION (appmx. 80 km)
On leaving Alicante airport for Benidorm follow the blue signs to the Motorway and VALENCIA (not Alicante as this takes you through the city and not MURCIA as this is to the South)
There is a good stretch of Motorway which is free, but there are tollbooths which you will reach after going through a tunnel. Take a ticket. Keep on the Motorway to Junction No. 83, which is signposted BENISSA and TEULADA. Pay at the booth (approx 1000 pesetas).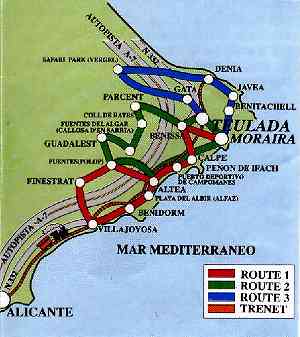 Do not take the road which branches to the right but continue straight on - this sliproad bends very sharply to the right and brings you on to the correct carriageway for Teulada and Moraira (this is the main road N332 ).

Follow the road down the hill and round several bends. Towards the bottom you will see a Garden Centre and Red Cross Emergency Ambulance Centre on the left and a Pottery shop/bar on the right (this is the corner of the road you should turn off). This road is signposted Teulada and Moraira. Continue on down this road which goes under a small bridge, carry on straight up the hill on the dual carriageway and when you reach the roundabout at the top bear slightly right, signposted Moraira.

PLEASE CLICK HERE TO VISIT OUR UP TO DATE WEBPAGE

The following directions are for a lovely town apartment to rent near the beach. Click here for further details. If you want a 3 bedroom villa rental with pool please click here

Head on to Moraira, passing a gokart track on the left then a large Ceramic centre and Restaurant Salvador. Just before the European shopping centre, with the Paichi Garden Centre on the right there is a road up to the left with signs for Travellers Rest, Ah Baba Dancing Bar etc.

Take first right into a narrow street, the house is second from end marked 4B and 215. Name is on door.

If you are interested here are further details of a beautiful apartment to rent near the beach. For booking tel. 01382 521444 (+44 1382 521444) or email aileen@rosling.com from here

Click here for further details.

Here's a 3 bedroom villa rental with pool

If you are looking for larger villas, some with swimming pools and apartments in the Moraira, Denia, Javea, Altea, Benissa and Calpe areas, please click here

The villa owner's tips: "For car hire from the Airport (Alicante) I use a local Moraira Company called Mr. Car (fax from UK 003466490116) and I have been getting reasonably priced flights from a Company I found on teletext, Premier Leisure tel 0181 5973376 (+44 181 5973376 from outside UK). A club called Driveline (tel 01707 22300) do a really good deal on the ferry crossing from Portsmouth to Bilbao for car and passengers and then it is a 475 mile drive to Moraira."

More information about Moraira and the area is here

In addition to the travel details below, this file is worth looking at

Here's a source of cheap flights to Alicante Airport from various airports in the UK. Here's Iberia Airways who do flights to Alicante Here's a useful car hire firm who operates out of Alicante Airport Here's the complete tourist information guide to Spain for your Spanish vacations and holidays in Spain with links to the Spanish tourist board, ghastly concrete jungles quite unlike here, hotels, accommodation (but you can't beat this villa here!) and all the Spanish tourist info you could desire!